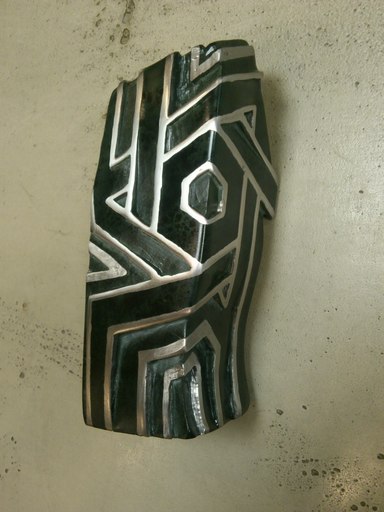 My name is Ronald Martha (1970) and as long as I can remember I had a love for stone.
This love was answered for the first time when I bought a starters kit for soapstone and began to experiment with different types of soapstone.
Currently im making statues for more than 10 years and im still looking for new Challenges and techniques to use in my works.
Very quickly I got the idea the inlay my stones with other materials and soldering tin seemed like the ideal material.
Peter, a friend of mine,tried it in a little piece of soapstone.
it was difficult to realize , but for me it was proof that it was possible, and so I stuck to it.
In the past few years I've been perfecting this technique and it still leads to surprising results.
While I was experimenting with inlaying I realized that there was no suitable tools for what I wanted to do , and so I created my own tools to inlay lead in stone.
The tools I made enable me to not only work on flat shapes but also on rounded or vertical shapes without spilling lead.
The search for finding way of incorporating different materials into stone is still something that's on my mind daily.
As a child I started with drawing and until sculpturing started to steal my heart , it was something I did intensely.
As a sculpture and drawer im selfthought,en I got my experience for Escher , nature and technique.
I made this website because I wanted to know what the world thinks of my work sins I don't sell my work.
I scuplture purely out of love and it brings me to another world ,full of fantasy and peace.
This is a fun and exiting way to show my work and to hear what other people think of my work.
So if u have any questions,suggestions or comments I would love to hear them .
I hope u enjoy my work .